Gretsch 125th Anniversary Products
In 1883 Friedrich Gretsch established the Gretsch musical instrument business in a small shop in Brooklyn and a heritage was born. Over the past 125 years, Gretsch Guitars & Drums has blossomed to develop a musical legacy featuring industry innovations, a hall of fame endorsement roster and, of course, "That Great Gretsch Sound."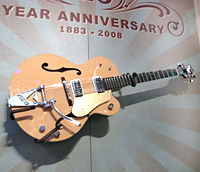 Gretsch 125th Anniversary Guitar Feature - G6118T-125
In celebration of the 125th anniversary of Gretsch® and a legacy that has lasted five decades, the tradition of the "anniversary" model continues. To commemorate this historic event, a very special instrument was created that is sure to be an instant classic. Combining time-tested Gretsch elements from the past with new features, the 125th Anniversary model has an ultra-rare Jaguar Tan top, with metallic gold back and sides. The body is made of three-play laminated maple for the utmost resonance and tone.
Two key individuals in the Gretsch story recently designed a new scalloped bracing specifically voiced for Gretsch guitars. The new "ML" bracing—which stands for Gretsch guitar designers Masao Terada and Mike Lewis—makes its debut on the 125th "Annie". This construction synchronizes the vibration of the top and back, with increased acoustical openness in tone. Accentuating the tone of the new ML bracing are a pair of TV Jones® Power'Tron™ pickups, pinned rosewood-based Adjusto-Matic™ bridge and a Bigsby® B6C vibrato tailpiece. Happy Anniversary indeed!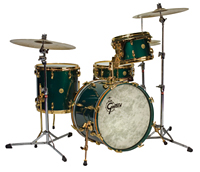 Gretsch 125th Anniversary Drum Feature - RB125-J404-CG
Gretsch's Progressive Jazz kit was modeled after the classic Gretsch "Birdland" kit from the 1950's. The Birdland kit was used by some of Gretsch's past master drummers - most notable Max Roach - and kept as the house kit at the renowned New York City jazz establishment.
The Progressive Jazz kit features classic 6-ply USA Custom shells, the same shells Gretsch has been using since the late 1950's, and features gold-plated drum hardware. Also included: Traditional jazz sizes, mounted 12" tom, Gretsch Round Badge, Cadillac Green finish and bass drum finished with gold sparkle inlay and vintage T-rods.