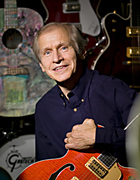 2008 marks the 125th anniversary of The Gretsch Company and "That Great Gretsch Sound." Since 1883, musicians worldwide have created some of the most celebrated and groundbreaking music with a little help from their Gretsch instruments.
This year, we honor the musicians, partners, dealers, distributors and Gretsch lovers everywhere who have helped the Gretsch family continue to bring to life the 125-year-old vision of company founder and my great-grandfather Friedrich Gretsch.
We are proud of this incredible milestone in our family business and invite you to celebrate with us as a member of our extended Gretsch family. We are planning a number of exciting events and contests throughout the anniversary year, so please take a look around the site and come back often for updates on anniversary news.
Thank you for joining us as we gear up for another 125 years of "That Great Gretsch Sound!"
Sincerely,
Fred Gretsch
President and CEO
The Gretsch Company
Gretsch Concert Bash the High Note of 125th Anniversary Year!
On Nov. 18 at the Highline Ballroom in Manhattan, The Gretsch Company hosted its "Big Event" concert with performances by new and veteran Gretsch artists who epitomize That Great Gretsch Sound. Gainesville, Fla., rockers, Colourslide, the grand prize winner of the Next Gretsch Greats Unsigned Artist Competition, opened the show!